Description
Double acting piston seals are designed for alternating applications in oleodynamic and pneumatic range, made in NBR compound with an hardness of 85° Shore A. They are fitted with expansion-springs, able to ensure a right pressure on the radial contact, in order to grant the following limits.
Pressure
Temperature range
Speed
up to 40 BAR (4 MPa) in oleodynamic application
up to 10 BAR (1 MPa) in pneumatic application
-25 – 100 °C
up to 0,5 m/s
Over these pressure limits support flanges are recommended: in case of contact with aggressive fluids, the following
materials are used:
FKM compound,
AISI 304 springs,,
AISI 316 support disc
---
PDE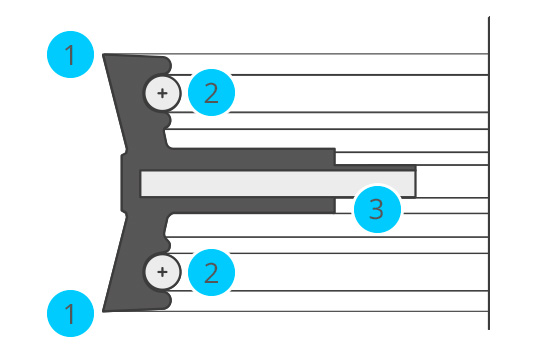 Technical Features
1
Rubber body with symmetrical double lip.
2
Double garter spring for oleodinamic sealing.
Materials
1
Double rubber lip:
NBR; FKM
2
Garter spring:
AISI 302; AISI 304; AISI 316